News
---
Ho ho ho! Check out our Christmas deals!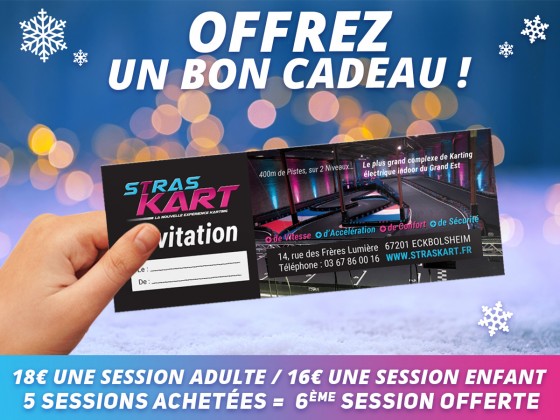 STRAS KART is feeling generous this month of December. Check out our winter deals for great gift ideas this holiday season.
A unique Christmas gift idea
Looking for a unique Christmas gift? Give the gift of go-kart sessions, an idea that's sure to please thrill seekers! Take advantage of our special offer: for 5 tickets purchased, the 6th is free. Head to STRAS KART to buy your gift vouchers!

Deals on personal tickets
Treat yourself and order your go-kart sessions online. Hurry and take advantage of our exceptional offer: 6 sessions for the price of 5 and 12 sessions for the price of 10.
Promotional terms : personal tickets are non-transferrable; the recharge is only valid for the person listed on the membership card.

Warm up on the track
What better way to warm up than with a glass of mulled wine during the holiday season? Every Sunday in December, STRAS KART is treating drivers to a glass of mulled wine with each go-kart session.
Come over to STRAS KART on Sundays from 14:00 to 20:00 (note: closed on 25/12/2016 and 01/01/2017)
Open on December 24 and 31 from 10 :00 to 18:00
Take a tour around our track before celebrating Christmas with the family. On December 24, STRAS KART is treating all drivers to Christmas cookies and mulled wine. And on December 31, drivers will be treated to a glass of sparkling wine with their go-kart session. Let's ring in the new year together!
Opening hours modifications during the school holidays
MONDAY: 14:00 – 23:00
TUESDAY: 14:00 – 23:00
WEDNESDAY: 14:00 – 23:00
THURSDAY: 14:00 – 23:00
FRIDAY: 14:00 – midnight
SATURDAY: 14:00 – midnight
SUNDAY: 14:00 – 20:00
Closed on Sunday 25/12/2016 and Sunday 01/01/2017
THE STRAS KART TEAM WISHES YOU HAPPY HOLIDAYS!
---
Newsletter
Sign up and receive our exclusive offers