Electric Go-karts: discover a whole new sensation
Drive our electric go-karts for a futuristic and innovative experience
An exceptional experience awaits you on our go-kart track, just minutes from downtown Strasbourg! Fun, thrills, and above all, safety, make for an unforgettable go-kart experience. With our silent and ecological electric go-karts, we've innovated the karting concept in the Grand Est region.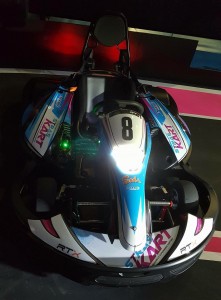 SODIKART electric karts
Sodikart is the world's leading manufacturer of go-karts. We trusted this company, based in Nantes, to provide you with powerful electric go-karts, complete with engines made in Alsace (Brumath) by the company Sew Usocom. Our go-karts are made in France with parts from Alsace for quality, resistance, safety and innovation.
Safety first!
We guarantee thrills and entertainment, with the advantage of complete safety. To ensure our drivers' safety, our electric go-karts are equipped with headrests and safety harnesses. The pedals and padded seats are adjustable to fit all shapes and sizes, providing an unmatched driving comfort.
Electric go-karts for everyone!
Treat yourself to a unique activity with family, friends or colleagues. Our entertainment complex accommodates up to 200 people of all ages! For those looking for an extreme racing experience, packages are available for all racing levels.
"More acceleration, more speed, more comfort, more safety."
Newsletter
Sign up and receive our exclusive offers