Your electric go-kart experience in Strasbourg: more acceleration and speed!
Electric indoor go-karts: a unique concept in the Grand Est region
Looking for some new excitement, a unique activity or a place to live out your go-kart passion? Come discover the largest electric indoor go-kart complex in the Grand Est region, located in Strasbourg. With our environmentally-friendly go-karts, at STRAS KART we guarantee excitement, thrills and above all, safety, for all drivers young and old. With family, friends or colleagues, any time is a good time to for a new, exhilarating experience.
Come drive the latest generation in electric go-karts on a futuristic track!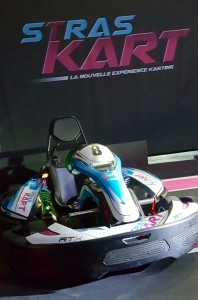 Environmentally-friendly go-karts
As a new company with an innovative concept, we wanted to offer our drivers a new, 100% electric go-kart experience. Our electric go-karts don't give off greenhouse gases or pollution, unlike gas-powered go-karts.
Thanks to a partnership with ES (Énergies Strasbourg), the electricity we use is 100% renewable.
How does an electric kart work?
Our electric go-kart runs on lithium batteries, giving it a long battery life, exceptional performance, and a quiet motor, ideal for indoor go-karting. Unlike gas-powered go-karts, 100% of the torque is available as soon as you hit the accelerator: get ready for an exhilarating experience!
In addition to its innovative look, our go-kart is equipped with the best safety systems for drivers of all ages and sizes.
Why race an electric go-kart?
More acceleration
More speed
More comfort
More safety
"Get ready for a one-of-a-kind, futuristic go-kart experience!"
Newsletter
Sign up and receive our exclusive offers