News, Special offers
---
Come go-karting during the Easter break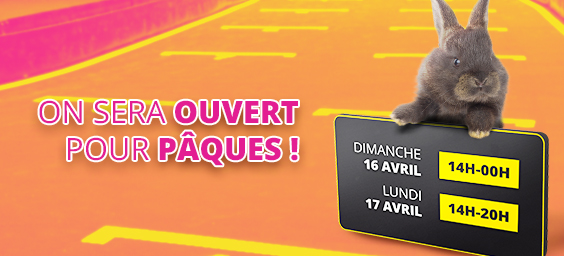 Looking for activities during the Easter break for a family outing or an evening between friends? Come go-karting in the biggest entertainment complex in France's Grand Est region.
Special opening hours for Easter weekend
STRAS KART will open its track on Sunday, 16 April from 14:00 to midnight and on Monday, 17 April from 14:00 to 20:00. And during the school holidays, we're open starting from 14:00 on weekdays.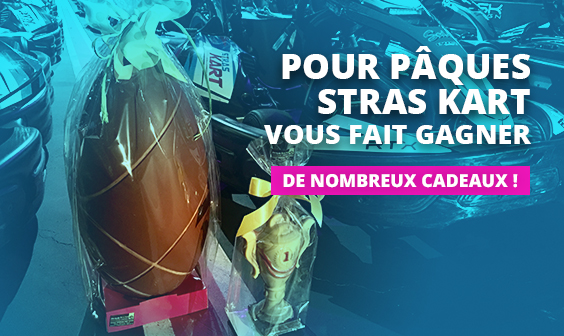 An Easter weekend filled with prizes
Come participate in our Easter raffle to win a giant, 1.3 kg chocolate egg and a pack of 3 go-kart sessions (retail value: 155€). How to participate? Come drive on the track from Friday, 14 April through Monday, 17 April. The more you drive, the more chances you have to win!
1 session purchased = 1 Easter raffle ticket
Try to clock the best race time to win a chocolate trophy and two tickets for the Easter raffle. Come log your race times from Friday, 14 April through Monday, 17 April.
Kid-sized go-karts coming soon
Our 6 new kid-sized go-karts (available from 7 years old and up) will be ready to hit the track very soon. Follow us on Facebook for more information about the official launch date!
Best driver for the month of March
Congratulations to TIZZ MERGUEZ who won a free go-kart session with a time of 31.931 sec.
In April, try and clock the best monthly race time to win your free go-kart session!
Fill up before hitting the track
The Food Truck "Tout est bon dans camion by Gaël" has moved in next to STRAS KART.
Come taste delicious burgers and daily specials every Monday and Friday for lunch!
---
Newsletter
Sign up and receive our exclusive offers